THE SCIENCE OF CLEANING AIR
SAFE, CLEAN AIR ISN'T A MARKETING GIMMICK. IT'S MEASURABLE AND ACHIEVABLE THANKS TO AIRBOX'S SCIENCE-BACKED SAFE AIR SOLUTIONS. LEARN ABOUT THE SCIENCE OF CLEANING AIR THAT GOES INTO EVERY AIRBOX PRODUCT.
THE PROBLEM: THE AIR YOU BREATHE MAY BE UNSAFE
According to the US Centers for Disease Control and Prevention (CDC), tiny airborne particles lingering in the air can contain bacteria, viruses, and other pathogens that spread diseases like SARS-CoV-2 (COVID-19).
The Environmental Protection Agency (EPA) estimates that the indoor air we breathe contains two to five times more pollutants than outdoor air — things like allergens, odors, chemicals, dust, and dander as well as disease-spreading pathogens.
Clean air technologies can be deployed to circulate and filter the indoor air we breathe, disrupting, displacing, and removing airborne particulates from the breathing zone.
AirBox, founded by a leader in cleanroom technology, has solved the problem of how to clean air efficiently and reliably in commercial and educational spaces, providing safe air solutions based on proven scientific research. AirBox air purifiers use certified HEPA air filtration to mitigate the spread of airborne pathogens effectively, regardless of composition.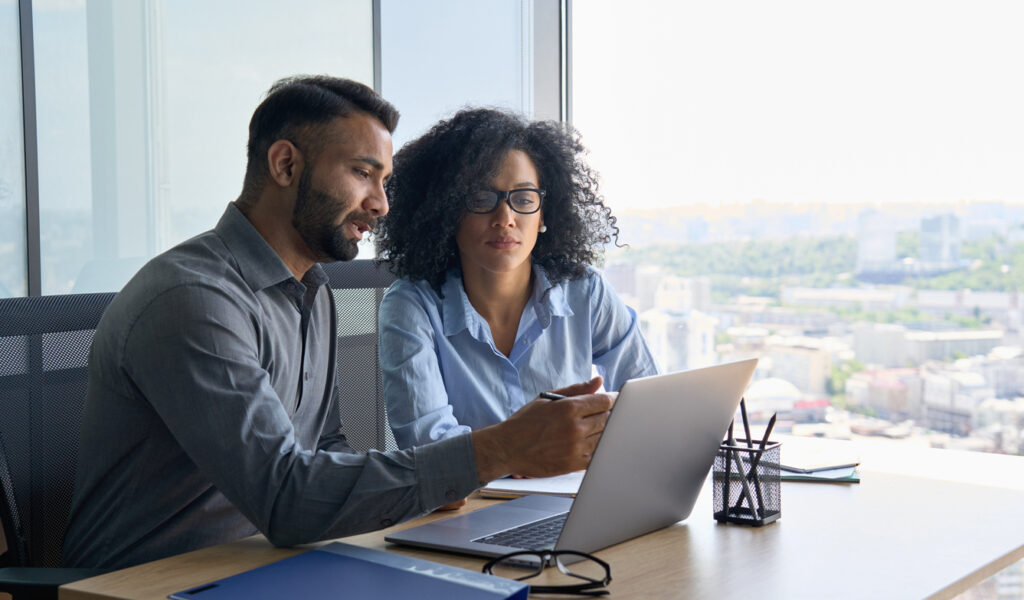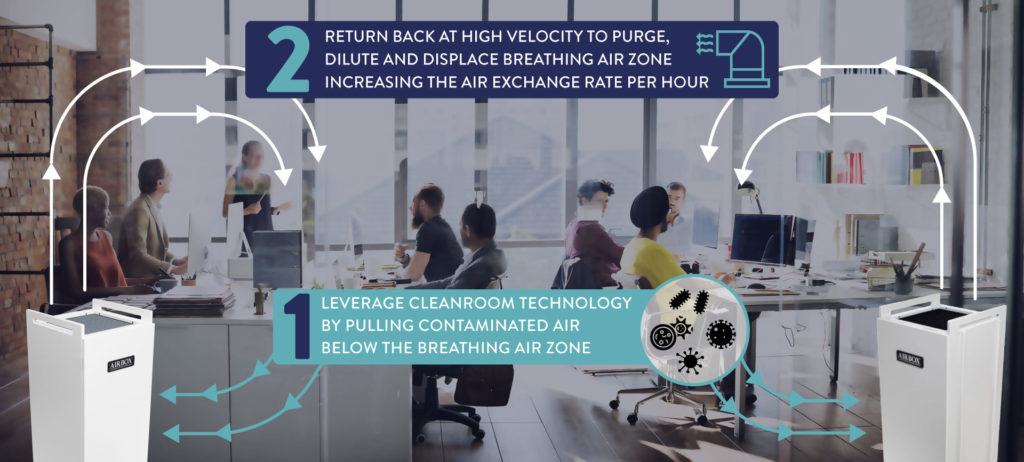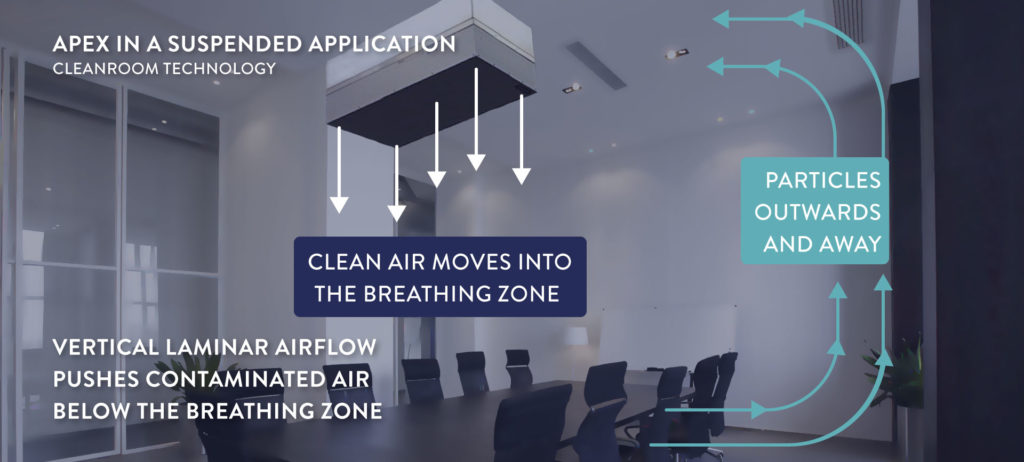 AIRBOX CLEANS THE INDOOR AIR YOU BREATHE
AIRBOX DEMONSTRATES HOW TO CLEAN AIR USING OUR DYNAMIC ROOM PURGE TECHNOLOGY® FOR A CONTINUOUS CYCLE OF SAFE AIR.
Dynamic Room Purge Technology® increases the air exchange rate by 2-5 times*, far exceeding ASHRAE air exchange requirements of standard room ventilation systems alone. AirBox solutions can clean the air within minutes of being deployed.
*Air exchange rate depends on the size of the room and the number of Airbox purifiers in use.
AIRBOX FILTERS: THINKING INSIDE THE BOX
WHAT'S IN THE AIR AFTER FILTRATION?
WHAT'S IN THE AIR BEFORE FILTRATION?
Bacteria
Viruses
Mold
Chemicals
Pet Dander
VOCs
Pollen
Dust
CERTIFIED HEPA FILTER
High Efficiency Particulate Air (HEPA) filters are the world standard for clean air. AirBox's HEPA filters are greater than 99.99% effective in removing particulates the size of 0.3 microns and even more effective in capturing smaller particles. Our unique HEPA filters use controlled media spacing to enable the unit's high air flow capacity.
ANTIMICROBIAL TREATED FILTER
The antimicrobial filter helps to inhibit the growth of captured airborne microbes. A microbe is a living thing that is too small to be seen with the naked eye. Many of these airborne microbes can attach to the surface of objects and cause degradation of the material itself. This filter will prolong the life of the final and most efficient filter stage — the HEPA filter.
ACTIVATED CARBON FILTER
When passing through the activated carbon filter, the air is cleansed of chemicals, volatile organic compounds (VOC's), bio effluents, and unpleasant odors. Our activated carbon filter prevents the carbon particles from releasing downstream into the other filters. This feature, unique to our products, dramatically increases the purifier's effective life cycle.
OUR FOUNDING: AIRBOX HAD A CLEAN START
TIM SELF: FOUNDER & LEAD ENGINEER
AirBox was founded by cleanroom expert Tim Self, a graduate of Purdue University with a degree in Mechanical Engineering Technology and an experienced engineer in the disciplines of fluid dynamics, thermodynamics and micro contamination.
Tim saw the need to educate people about how to clean air to improve indoor air quality, the effects of safe air on their health, and how to ensure that they are using products that will safely and effectively clean the air they breathe.
In 1994, Tim founded AM Technical Solutions, which became one of the leading firms designing and building cleanrooms across the globe for Fortune 500 companies.
In 2017, he parlayed his 30 years' experience with AMTS to develop and engineer the best-in-class AirBox Air Purifier.
THE SCIENCE IS BEHIND US: MORE REASONS TO CHOOSE AIRBOX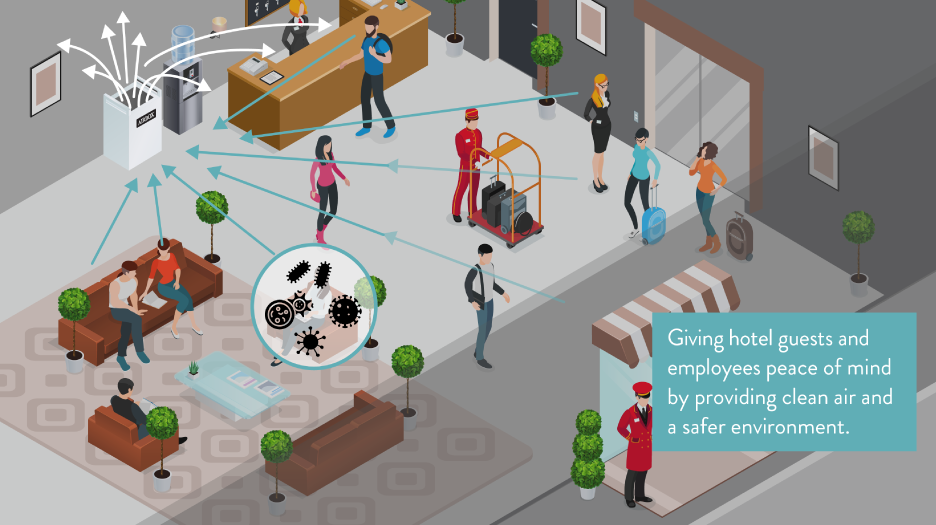 Our products are FDA compliant for use during COVID-19.
Our products have completed independent lab testing resulting in 99.99% (4-log reduction) efficiency at removing viruses, pathogens, and harmful particles.
Our products are manufactured in an EPA registered establishment.
Our solutions use HEPA filtration certified by the Institute of Environmental Science and Technology (IEST).
Our products are UL listed, meeting critical product compliance and safety requirements.
Our products provide high-capacity airflow ranging from 375 CFM to 1500 CFM, exceeding ASHRAE recommendations for indoor air exchange rates of standard room ventilation systems.
As Indoor Air Quality Experts we can provide engineering support employing Computational Fluid Dynamics (CFD) to model Room Airflow Dynamics and work alongside our HVAC partners to ensure proper testing & balancing to ensure clean air is sweeping through the area.
GET SCIENCE-BACKED SAFE AIR FOR YOUR FACILITY
OUR TEAM OF EXPERTS WILL ENGINEER A SAFE AIR PLAN BASED ON THE SQUARE FOOTAGE AND OCCUPANCY OF YOUR FACILITIES.