Scottsdale, a city in Arizona, has taken a significant step towards promoting sustainable development and reducing its environmental impact.
The Scottsdale City Council recently announced the adoption of the 2021 International Energy Conservation Code (IECC) and the International Green Construction Code (IgCC) as mandatory regulations, effective from July 1.
This move makes Scottsdale the first city in Arizona and one of the few cities in the United States to implement such guidelines aimed at encouraging developers to prioritize green practices in new commercial and multi-family building construction and remodeling projects.
The primary objective of these codes is to:

1.) mitigate the environmental impacts of construction activities
2.) protect natural resources
3.) enhance the energy efficiency and resiliency of buildings
By adhering to these standards, Scottsdale expects to achieve a 20% reduction in water usage in new buildings and at least a 13% reduction in greenhouse gas emissions. These figures were highlighted by Michael Clack, the city's chief development officer, in a recent note.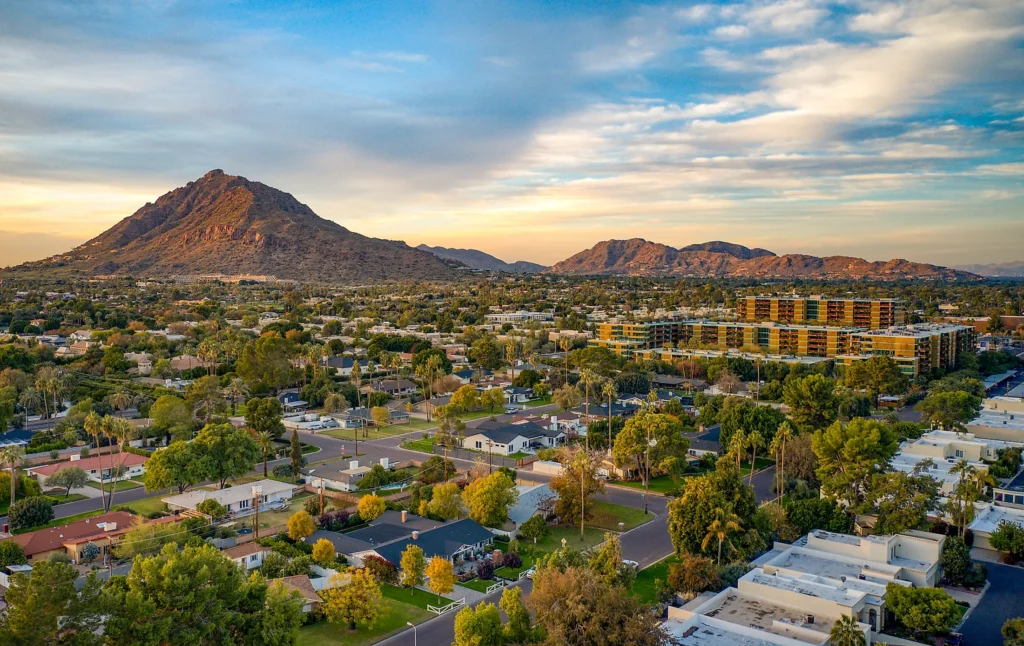 The green code provisions put forth by the city include several measures to promote sustainable building practices. These include the implementation of site-shading and low-impact hardscape surfaces to mitigate the urban heat island effect, sourcing low-impact building materials from within a 500-mile radius of the construction site, providing electric vehicle charging infrastructure for non-residential buildings, and improving indoor air quality with the use of low-VOC interior paints, coatings, sealants, adhesives, and flooring.
Furthermore, the codes emphasize the importance of reducing energy consumption through the implementation of energy-efficient building envelopes, mechanical systems, lighting controls, and renewable energy sources. They also prioritize indoor environmental quality by incorporating minimum daylighting measures based on building use and occupancy.
Anthony Floyd, the green building program manager for Scottsdale City, explained that the IgCC was amended to align with the IECC or energy code. In doing so, certain sections from the 2015 edition of the green construction code were removed. These sections covered detailed guidelines on:
Water and lighting systems
Green cleaning
Transportation management
Indoor air quality protocols
Acoustics testing
Daylighting
Interior sound transmission requirements
And other related processes
The decision to remove these sections was based on the belief that the energy code provisions and exceptions were simpler and more straightforward. This ultimately led to the inclusion of commissioning requirements from the energy code.
The IECC came into effect in January 2023, and it applies to both new residential and commercial buildings. The updated energy code is expected to result in lower energy use, cost savings, improved thermal comfort, and reduced environmental impacts. Compared to the 2018 IECC, the new code is estimated to deliver energy cost savings of 10.6% and reduce greenhouse gas emissions by 10.2%. Nationwide, the implementation of energy codes for residential and commercial buildings is projected to achieve $138 billion in energy cost savings and avoid 900 million metric tons of CO2 emissions from 2010 to 2040, as reported by the US Department of Energy.
The Scottsdale energy code updates encompass various improvements, such as enhanced residential ceiling insulation, the use of cool roof surfaces for low-slope roofs, the requirement for high-efficacy lighting (LED or similar) in all areas, interior lighting controls with dimmers or sensors (excluding bathrooms and hallways), exterior lighting controls with automatic shut-off in the presence of daylight, and the incorporation of electric vehicle charging infrastructure in new homes, apartments, and hotels to support the growing demand for EV charging.
Additionally, the code calls for solar-ready rooftops in residential and commercial buildings, ensuring reserved breaker space and conduit for future solar installations.
On the other hand, the IgCC applies to all new commercial and multifamily buildings in Scottsdale. Its implementation aims to conserve natural resources, improve air quality, enhance occupant comfort and health, reduce waste streams, minimize the strain on local infrastructure, and promote the use of low-impact building materials.
The code includes provisions for heat island mitigation in new hardscapes, indoor and outdoor water use reduction, electric vehicle charging infrastructure for non-residential buildings, on-site renewable energy (with exceptions for equivalent energy efficiency improvements), and construction waste management that targets a 50% diversion of waste from landfills through recycling and reuse. Furthermore, the IgCC encourages the use of building materials with recycled content, regional resources, certified lumber, and environmental product declarations to reduce their environmental impact.
Lastly, the code emphasizes improved indoor environmental quality through the use of low-VOC materials and finishes.
The effective date for the IECC was January 7, 2023, while the IgCC came into effect on July 1, 2023. By implementing these codes, Scottsdale has taken a proactive stance in ensuring that future construction projects prioritize sustainability, energy efficiency, and environmental responsibility. This move sets an example for other cities in Arizona and across the United States, highlighting the importance of adopting green building practices to create a more sustainable and resilient built environment for the future.